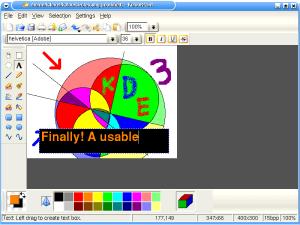 "Finally! A usable paint program for KDE."
With more than a dozen tools, KolourPaint has all the functionality you would expect in a desktop paint program. Here a logo is being drawn with the Line, Circle, Brush, Spraycan and Flood Fill tools. A movable text box is being used to annotate the picture.
KolourPaint is one of the first KDE paint programs to sport full Undo/Redo support. With up to 500 levels of Undo/Redo, KolourPaint forgives us for being mere mortals.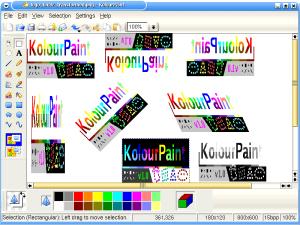 "Image editing taken to a whole new level of power and simplicity."
Who said KolourPaint wasn't an image editor? With half a dozen effects and arbitrary skew and rotation angles, KolourPaint makes disfiguring your boss' photo a reality!
Transparent selections - be they rectangular, elliptical or free-form - mean that you can make any colour act transparent within a selection. Combine this with KolourPaint's Colour Similarity feature for editing photos and dithered images, and you get background subtraction at its best.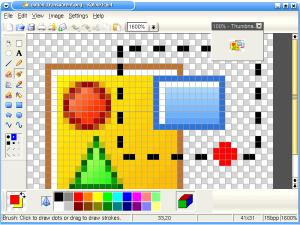 "Icon editing just got easier with KolourPaint."
Features including Zoom, Grid and the Thumbnail make down-to-the-pixel editing a snap. Innovative brushes and erasers means that drawing virtually anything is quick and effective.
And that's not all. With KolourPaint, all tools can draw transparent pixels on a "checkerboard." No more icons with opaque backgrounds!